River's Edge Pharmacy focuses on individualized services by working directly with patients and families. This one-on-one approach allows for timely delivery of therapy while addressing issues that may arise.
River's Edge Pharmacy proudly offers comprehensive specialty and infusion pharmacy services throughout Southern California including, but not limited, to Riverside, San Bernardino, Palm Desert, and Orange County. These services also extend to other states, and include: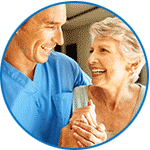 River's Edge Pharmacy proudly offers Comprehensive infusion pharmacy and skilled nursing services delivered by clinical pharmacists, infusion-certified nurses & board certified clinical dietitians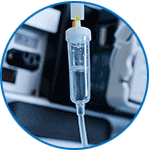 Ability to support intermittent and continuous infusion dosing regimens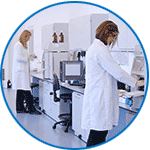 ISO Class 7 Compounding per USP 797 Standards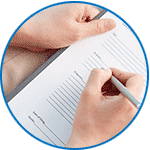 Written protocols for the safe administration of infused drugs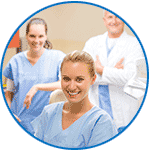 Competency-assessed clinical pharmacists and infusion-certified nurses on call 24/7/365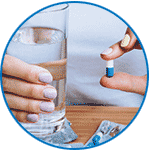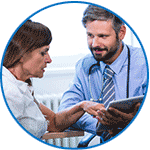 Coordinated hospital discharge support from hospital to home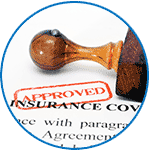 Full accreditation for pharmacy and nursing.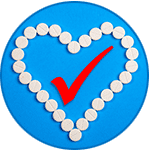 Most insurance plans accepted
UNDERSTANDING YOUR PRESCRIPTION LABEL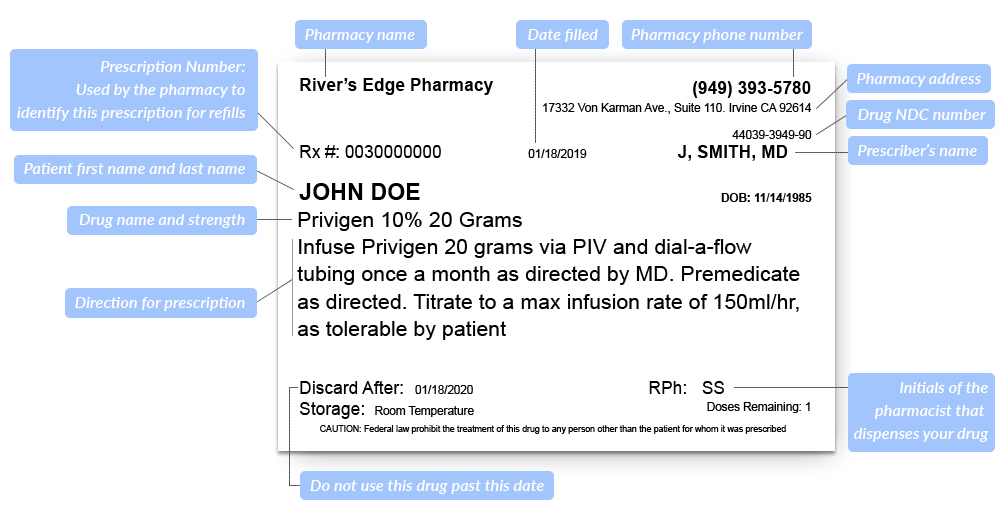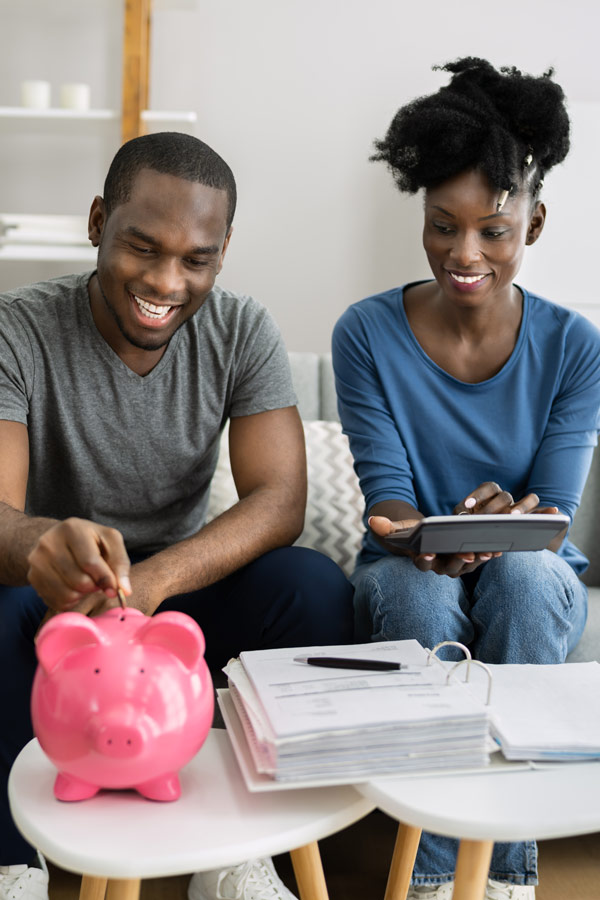 River's Edge Pharmacy knows that costly medications can create a major financial burden for patients and their families. For this reason, River's Edge Pharmacy has a dedicated team of professionals to help patients gain access to specialty medications.

Each patient is provided:
Confidential sessions to discuss financial needs
Eligibility options for financial programs
Enrollment into foundations, co-pay assistance programs, and specially tailored payment plans

For questions about financial assistance, please contact us directly at info@repharmacy.com
PATIENT AND PROVIDER RESOURCES
Immunoglobulin Therapy:
 Blood Disorders:
Acute and Chronic Infections:
Cancer:
Neurological Disorders:
Bone & Joint Diseases:
Gastrointestinal Disorders:
Liver Diseases:
INFUSION SERVICES STANDARDS
River's Edge Pharmacy shall honor patient rights and responsibilities and inform the patients of their rights and responsibilities in the care process. Patients will receive a written copy of Patient's Rights and Responsibilities at the time of the initial order shipment. River's Edge Pharmacy staff will be trained in reviewing Patient Rights and Responsibilities with the Patient/Caregiver and will ensure understanding of these rights and responsibilities. If the patient/caregiver cannot read the statement of rights and responsibilities, an offer will be made to read it to the patient/caregiver, or offer a translator to provide this service in a language the patient/caregiver understands.
To ensure the finest care possible, as a Patient receiving our Pharmacy services, you should understand your role, rights, and responsibilities involved in your own plan of care.
Select those who provide you with Pharmacy services
Receive the appropriate or prescribed services in a professional manner without discrimination relative to your age, sex, race, religion, ethnic origin, sexual preference or physical or mental handicap
Be treated with friendliness, courtesy, and respect by each and every individual representing our Pharmacy, who provided treatment or services for you and be free from neglect or abuse, be it physical or mental
Assist in the development and preparation of your plan of care that is designed to satisfy, as best as possible, your current needs, including management of pain
Be provided with adequate information from which you can give your informed consent for commencement of services, the continuation of services, the transfer of services to another health care provider, or the termination of services
Express concerns, grievances, or recommend modifications to your Pharmacy services, without fear of discrimination or reprisal
Request and receive complete and up-to-date information relative to your condition, treatment, alternative treatments, risk of treatment or care plans
Receive treatment and services within the scope of your plan of care, promptly and professionally, while being fully informed as to our Pharmacy's policies, procedures, and charges
Request and receive data regarding treatment, services, or costs thereof, privately and with confidentially
Be given information as it relates to the uses and disclosure of your plan of care
Have your plan of care remain private and confidential, except as required and permitted by law
Receive instructions on handling drug recall
Confidentiality and privacy of all information contained in the client/patient record and of Protected Health Information; PHI will only be shared with the Patient Management Program in accordance with state and federal law
Receive information on how to access support from consumer advocates groups to receive pharmacy health and safety information to include consumers rights and responsibilities
Know about philosophy and characteristics of the patient management program
Have personal health information shared with the patient management program only in accordance with state and federal law
Identify the staff member of the program and their job title, and to speak with a supervisor of the staff member if requested
Receive information about the patient management program
Receive administrative information regarding changes in or termination of the patient management program
Decline participation, revoke consent or disenroll at any point in time
Be fully informed in advance about care/service to be provided, including the disciplines that furnish care and the frequency of visits, as well as any modifications to the plan of care
Receive information about the scope of services that the organization will provide and specific limitations on those services
Be informed of client/patient rights under state law to formulate an Advanced Directive, if applicable Have one's property and person treated with respect, consideration, and recognition of client/patient dignity and individuality
Be able to identify visiting personnel members through proper identification
Be free from mistreatment, neglect, or verbal, mental, sexual, and physical abuse, including injuries of unknown source, and misappropriation of client/patient property
Voice grievances/complaints regarding treatment or care, lack of respect of property or recommend changes in policy, personnel, or care/service without restraint, interference, coercion, discrimination, or reprisal
Have grievances/complaints regarding treatment or care that is (or fails to be) furnished, or lack of respect of property investigated
Confidentiality and privacy of all information contained in the client/patient record and of Protected Health Information
Choose a health care provider, including choosing an attending physician, if applicable
Receive appropriate care without discrimination in accordance with physician orders, if applicable
Be informed of any financial benefits when referred to an organization
Be fully informed of one's responsibilities